<< Back
Mens camouflage printed hooded onesie
A popular item this year, this mens onesie looks amazing on and it's so comfy that you won't want to take it off. It features soft fleece linings, full length sleeves, front zip fastening, two front pockets. Wear indoors or out! Everyone wants a onesie this year so get yours now, before they sell out!
Not Sure Which Size Are You? View Our Size Guide!
You May Also Like...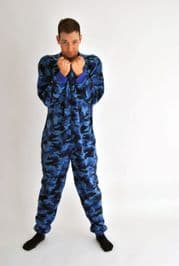 Now: £20.00
View Details >
Customer Reviews